Fluoropolymer Coatings
Fluoropolymer Non-Stick Coatings
Fluoron's line of nonstick coatings is ideal for processes of any shape or size depending on your particular application. Our fluoropolymer commercial spray coatings help protect your equipment and parts from corrosion and rust, as well as add a nonstick, non-wetting surface where applicable.
Our Unique Products
FLUOROPOLYMER COATINGS
Dreamcoat 100™ coating is a Polytetrafluoroethylene (PTFE) based non-stick fluoropolymer coating. It is spray applied by our certified technicians and then cured at a minimum of 250ºF to harden the coating and provides excellent release and chemical resistance characteristics.
Fluoron-Coat™  is a non-stick coating that combines the wear resistance of tungsten carbide with the release, chemical, and corrosion-resistant properties of DreamCoat 100 PTFE fluoropolymer. Unlike traditional spray-on coating solutions, Armor-Coat™ technology embeds the PTFE release coating within a protective matrix of tungsten carbide. This enables a unique combination of extended wear life, enhanced corrosion resistance, and improved release properties.
DreamCoat 200 Series
Dreamcoat 200™ is Fluoron's proprietary extreme non-stick coating with unmatched release for pressure sensitive adhesives, glues, and stickies. When we say nothing can stick to this coating, literally nothing can attach itself to this coating; tapes and glues will fall right off under their own weight. Request a sample today to try for yourself! DreamCoat 200 meets FDA 21 CFR 177.2600 standards for food contact and is a great solution for the baking and confectionery industries to reduce cleaning time and cost.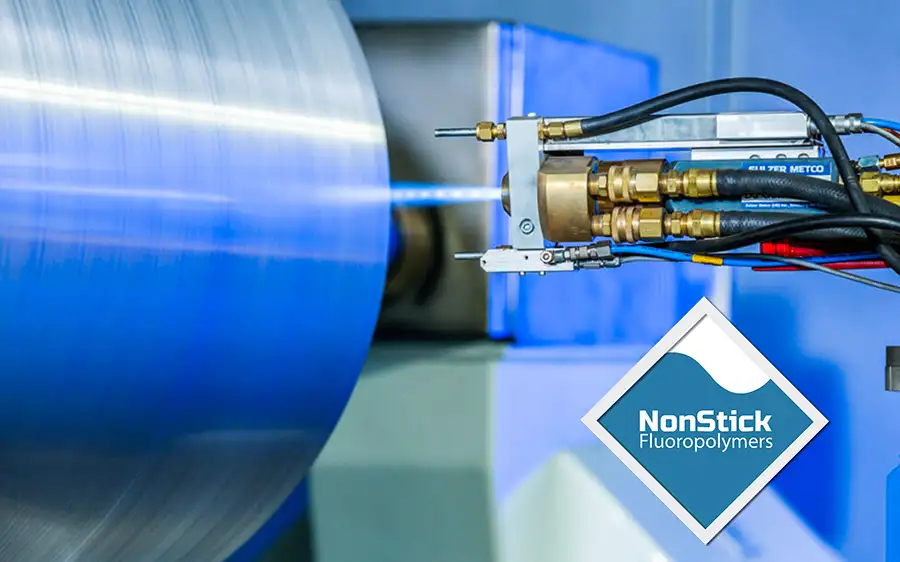 Fluoron Guarantees our products will immediately improve your process performance.
FLUOROPOLYMER
Advanced Solutions
At Fluoron™, we are dedicated to providing our customers with comprehensive solutions that encompass both the products and support necessary to address distinctive challenges. To gain further insights, we invite you to view our informational video on Fluoron™
Unique Nonstick Solutions
Commercial Fluoropolymer Coatings
Fluoron's range of Non-Stick release coatings offer optimal solutions for parts of varying shapes and sizes that are plagued by adhesive accumulation or are at risk of corrosion. Our non-stick coatings boast chemical resistance and can be applied to a multitude of materials, providing effective solutions for pressure-sensitive adhesives, gums, glues, starch, and other forms of buildup. In addition, for applications that are subjected to high levels of wear, we offer reinforced coatings that enhance the non-stick properties even in the most challenging operating environments. These coatings provide numerous benefits in the manufacturing industry, including improved product release, reduced maintenance and cleaning requirements, and extended equipment life.
Learn more about our coatings
Contact Us